Licenses For Chicago Board Up Services
Chicago Board Up Trademarks & Illinois Licenses
Chicago Board Up Services continues to protect its good name. Several companies have claimed to be Chicago Board-Up, or Chicago Board Up Services, or Chicago Board-Up Service. In order to protect our clients and our name we have posted on this page the trade marks issued by the United States Patent and trade mark office. We are also proudly displaying our trade marks issued to us by the State of Illinois. We are proud to say that we are the original and real Chicago Board Up Company. Others are using our name to wrongfully divert business to them. Please do not be fooled by the competition. Rated an A+ from the Better Business Bureau for our committed service to the community with our top quality emergency board up services. Our company thanks you for your support. We continue to serve those who need their property protected and peace of mind. From fire damage to water damage to storm damage, we stand by ready to serve 24/7.
We are the Original Chicago Board-Up Services
We are Chicago Board Up Services and United Emergency Services is a recent competitor and is using our name to confuse the public in our opinion. Do not be fooled by them. We at Chicago Board Up Service operate out of our office and have trucks on stand by. We are licensed and bonded in IL. We are members in good standing with the BBB. Do you trust people or companies who start up a business to copy or imitate an established company's name? We've been in business for over 2 decades now and have spent lots of hard working hours and countless money promoting ourself and earning your trust one situation at a time. Take a look at our track record please, we encourage you to read through our reviews and testimonials online. Our competitors simply do not have the same track record as we do. That is why they HAVE to copy us. We are ready to serve you 24/7. We are not an internet hub office or operate out of our home. We pay rent and office expenses. CBS is legitimate and the ones to trust when you need it the most. Don't be fooled by United Emergency Service who is copying our domain name.
The Original Board-Up Service In Chicago, IL
Chicago Board Up Services has been in business for over 20 years. Others put out blogs and web pages with tags for "Chicago Board-Up" hoping to detour and reroute the business to their sites. These are not the type of companies to trust. Please call us for your 24/7/365 disaster needs. We provide all board up services after a disaster such as fire, flood, storm, etc. They include emergency board up, water extraction, winterization, temporary electric, housing, and restoration. Imitators such as United Emergency Services is trying to get business by using our name. When calling any board-up company make sure they do back ground checks, have brick and mortar offices, history of business at one location & under one name, and our accredited by the Better Business Bureau.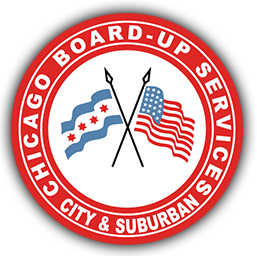 24 HOUR
Emergency Service by Chicago Board Up Services